There is one last New Zealand adventure I want to take you along with: The great final on Great Barrier Island. I didn't only walk the Aotea Track to the highest point of the island, I also experienced the distinctive bays and unique tribe of this island. I want to share all about it with you. It will be a long story. Come and dream with me.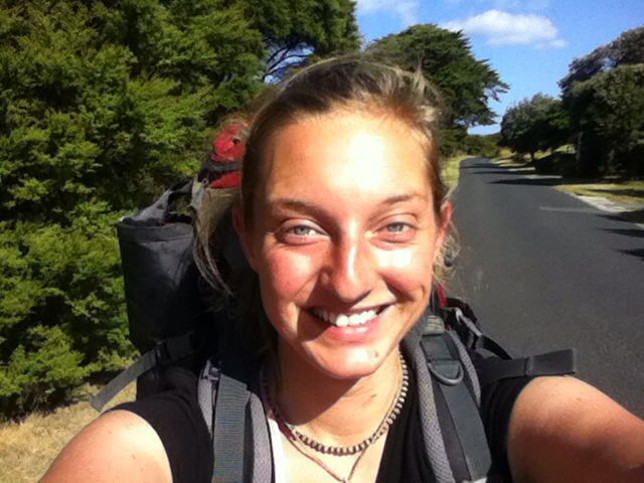 It's Saturday, 3rd of December around 5 pm. Two hours ago I was rushing along busy Queen Street in Auckland to catch the bus to the airport. Now I'm strolling down the "mainroad" of Great Barrier Island. I'm walking unhurriedly with a slight smile on my face. My heart feels warm and relaxed. Even if my backpack is heavy and my shoulders hurt a bit, I feel stronger than ever. Nothing can stop me on my last adventure in New Zealand. In only six days I will be saying good bye to this beautiful country. I'm trying to absorb every ray of sun and fresh breeze of air.
Aotea – White Cloud

Aotea whakahirahira
Aotea taonga maha
Aotea utanganui

Aotea the island of renown
Aotea the island of many treasures
Aotea the island of bountiful cargo

A Maori proverb
I walk calm but determined towards an unknown destination. I don't know where I gonna sleep tonight. I just walk – step by step, enjoying this unusually warm pre-summer afternoon in New Zealand.
I didn't make any effort to stop a car, but all of a sudden an old pick-up is waiting a few meters ahead of me. The red-nosed guy in the car asked me with a surprisingly charismatic voice: "Do you need a lift to Medlands Campsite?" pretending I knew exactly what campsite he is talking about, I said, "Yeah, sure."
I chucked my backpack on the backseat, which was already cluttered with tools, dirty working clothes and other indefinable things. When I opened the co-drivers door I had to kick a bunch of empty jacky coke cans aside to fit in my legs. Briefly I observed the guy. "Jump in," he prompted firmly, but the warm look in his eyes didn't leave room for any doubts.
"So, this is your home?" I asked in a way an excited kid would ask. "It's paradise!!" I raved. "Yes, I suppose it is," the guy countered with a shaky voice – but not because of his emotions, but because he was probably an alcoholic. We turned into a gravel road alongside a beautiful empty beach. A few minutes of silence later I found myself on Medlands Campground. "You will be alone tonight. Good luck and see you around," he left with a dust cloud.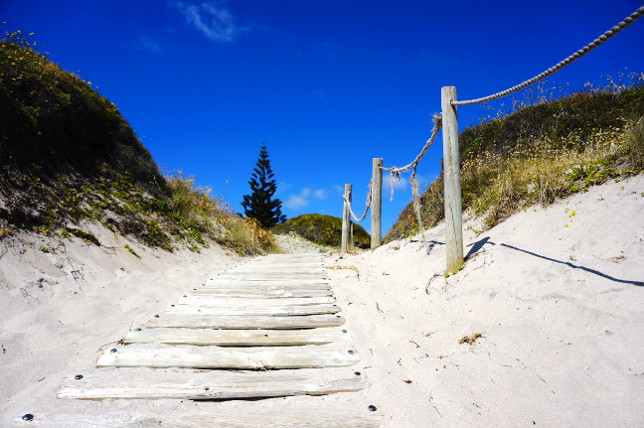 I was standing in the middle of the campsite with an open mouth – admiring the setting. Medlands Campsite was nestled between ragged farmland and overgrown sand dunes. In front of me the sun was blinding me as it was standing close to the horizon already. To my left and to my right I looked up some massive pohutukawa trees. Besides these wooden fellows I didn't see a soul, but I felt I was in good company.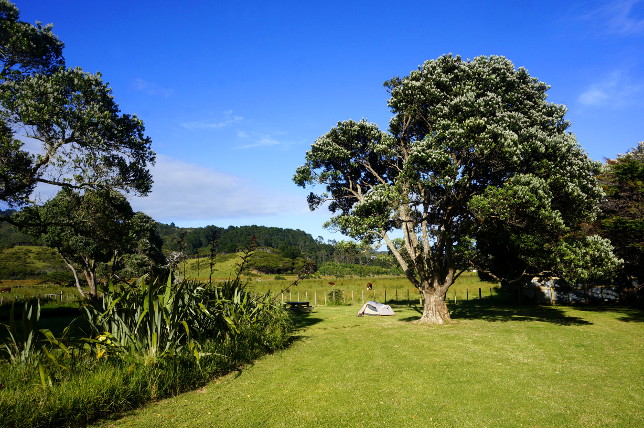 Even if the pain of parting from New Zealand was already sitting in my stomach – on this sunny afternoon I felt only content. "Let's make the most of it," I thought to myself, dropped my bag at the shelter of the campsite and walked barefoot towards the beach. My feet were hot and my back wet, so I was stoked about having a swim in the blue sea.
The next morning on Sunday, 4th of December at 7 am after around 10 hours of sleep I crawled out of my tent after the first warmth of the sun woke me up. The fresh ocean breeze blew the sleep out of my face. Slowly, step-by-step, I was wandering towards the beach again. Magpies, who obviously inhabit the campsite flew perilously across my head. To avoid more resentment of the birds I decelerated my pace a little bit more. With every step I moved myself consciously slow towards the beach. The sun is still making her way up the cliffs. The air still got its nightly freshness. I smile and I'm deeply grateful to be able to witness this beautiful morning. I lifted my head towards the sky and I said out loud "Thank you," thank you nature for these invaluable moments.
I knew, today I would have the time. I didn't have to reach anything else than the next stunning campground. Decelerated, without ruffle and excitement I was looking for a spot to practice some Qi-Gong. Not for my body, but for my mind – to revive the spirits and to comfort the doubt-demons. But I realized – I was already calm. The last weeks at Cape Reinga, Raglan and the Marlborough Sounds – the life close to the sea brought peace to my soul. ("Staring at the sea" doesn't only cure tonsillitis. 😉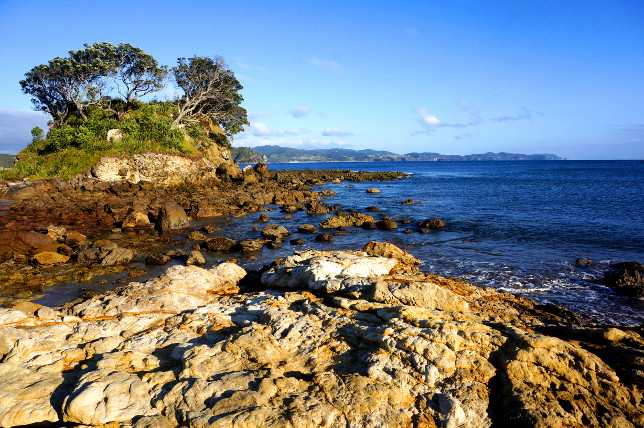 …I'm standing barefoot at the beach in a shaded bay. In front of me the waves brake strong and quietly. The sun is climbing up behind me towards the apex of its motion. My feet are cold, but my heart is warm. I look ahead towards a small island with two massive pohutukawa trees. I ask myself if they will blossom soon or if they are fighting for their existence. It doesn't look like it. They are one with their surrounding. I try to see things from their perspective – I felt grounded and connected with the environment. Peacefully with a smile on my face I walk back to my camp to admire my sleeping spot under my favourite tree – pohutukawa. What a beautiful morning 🙂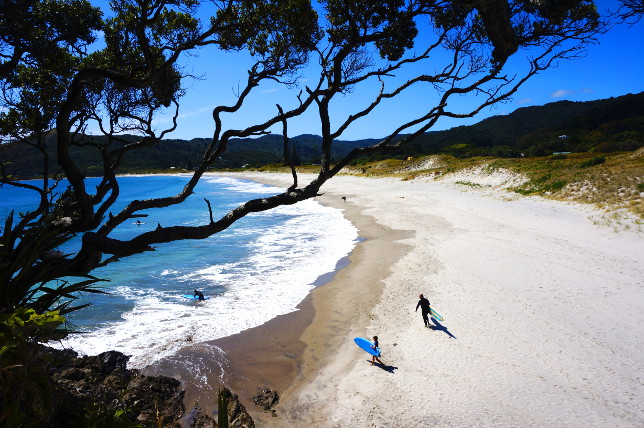 After packing up, I walked back towards the beginning of the gravel road I crossed with the guy from yesterday. I took a detour across the beach – the last time I would feel the warm sand of this stunning place under the soles of my feet. On top of the beach I spotted a well-shaped surfing wave and some guys, who rode it reverently. I watched them for about 20 minutes before I decided to climb the top of this little rock formation, which was home to native fauna.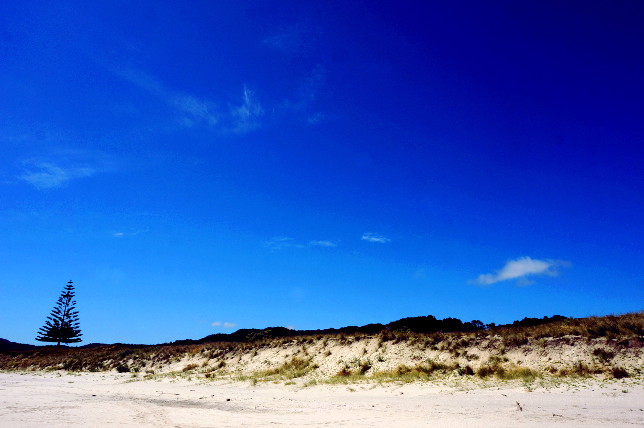 After charging my batteries with early morning sun, I decided to proceed slowly towards the road. Again I didn't decide which way to go. I knew I'm going to walk the Aotea track to Mt Hobson, a three days circle starting tomorrow, but I could rather start at "The Green Campsite", south of the track close to the hot pools or at Akapoua Campsite at the northern exit of the trail. So I decided to just see, where the wind blows me.
The decision was made by two surfers stopping by and squeezing me between their surfboards in the back. "You gonna climb Mt Hobson? Don't miss out on the hot pools on the way back." Yeah, right, the hot pools. I already felt like having a warm bath before defeating the mountain. But first I will follow these surfing dudes. "We gonna stop for food before we are heading to a surf competition," he stopped the car promptly at My Fat Puku Café in Claris between the service station, the post office of the island and the radio station "Aotea Fm".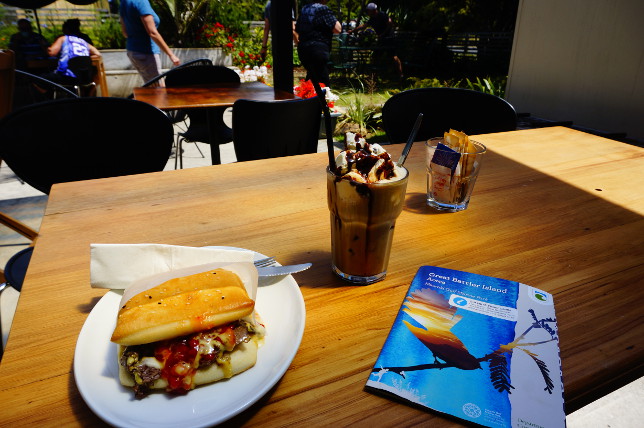 Immediately I felt like I wanna stay and enjoy a coffee. I told the guys to leave without me. After a coffee and a sandwich I popped in at the radio station next door.
I was standing in the frame of the open door. The radio host, a bright and bronzy old lady waved me in, while announcing the event highlights of the island. After sending the next song ("Hotel California") over the air, she welcomed me hand-shaking and asked me, where I want to go. "To the surfing competition," I answered without hesitating. "A german girl named Willy is looking for a lift to Awana Bay. She's smiling at you in front of the radio station. Stop by," she informed her audience.
Before I could count to ten, I was picked up by Rob, a guy in his sixties and a living encyclopedia about Great Barrier Island and New Zealand in general. "I'm gonna show you a spot with the best view over Awana Bay," while driving up the windy road under a nothing but blue sky, he told me about a boat he owned.
My desire to travel to Great Barrier Island grew, when I read the book "South Sea Vagabond" by John Wray.
Wray built a boat made of kauri wood grown on Great Barrier Island to fulfill his dream of sailing over the Pacific Ocean to Tonga, which turned out to be the mission of a lifetime. It turned out that Rob was the caretaker of Wrays boat! Again I was at the right time at the right place.

We turned into a narrow, overgrown forest road leading up a fairly steep hill.
"This is my favorite place in the world," Rob announced. Immediately I understood why, when I walked towards the edge of the cliff while his puppy was jumping bubbly of energy around my legs. "The next shore is South America," he pointed eastbound towards the open sea.
Rob and his friend are owning a wee kiwi holiday home high above Awana Bay. An american real estate broker offered him eight million NZD for this property. He declined: "My daughter wouldn't speak a word with me again, if I sold it."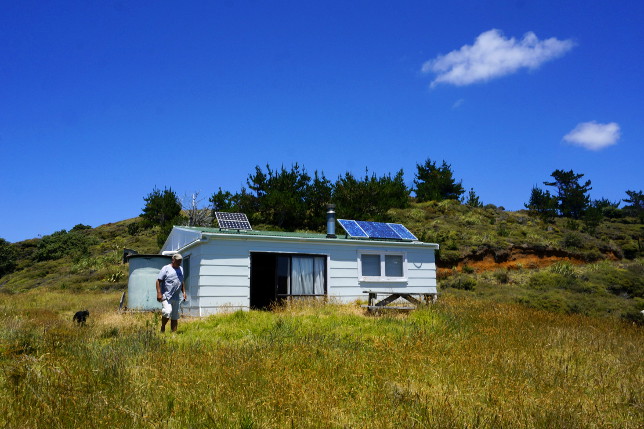 Later on he dropped me down at the bay.
I walked along the beach. The sand was frying my feet so I hurried around the rocky cliffs of Awana Bay, where I found a secluded swimming spot to cool down my heated body.
It was time to hit the road again. Tonight I would have to reach the beginning of Aotea Track. I started walking up the boiling road, hoping to catch a ride on the way, because the sun wasn't only melting the concrete but also my forehead. I got a lift up to the intersection towards Whangaparapara. From there I walked and walked along the dusty road. My destination was "Green Campground", a small campground nestled in a calm green bay. I had decided to start the circle clockwise from the southern corner.
Luckily an esoteric looking woman picked me up and spared me one more hour of walking through dust. She was living on the opposite side of the bay, where the Campground is located. "You will be alone tonight, but it will boost your character."
Well, she was not quite right. A gang of rabbits hopped out of my way, when I entered the campground. Obviously I intruded into their territory. The long-eared fellows and a whole lot of different sea birds were the only overnighters.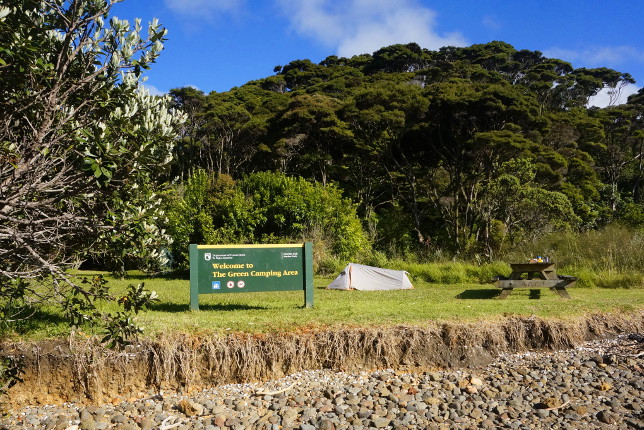 The next morning, Monday, 5th of December, I got up with the sun to enter the lush forest as quickly as possible. The track started off unspectacular on an old forestry road. Parts of it used to function as a tramline to transport kauri wood. Already in the early 19th century European Settlers started to utilize the islands treasures: Mining and whaling was on the rise before logging and milling kauri wood became a major industry on Great Barrier Island during the first decades of the 20th century. Besides the kauri forest the birdlife suffered from this far-reaching exploitation, which can still be witnessed. Additionally the kauri trees are under threat from dieback disease, an fungus-like disease which infects the roots of the trees and slowly kills the whole tree. Luckily parts of the remnant native kauri forest is regenerating slowly due to conservation activities e.g. by DOC.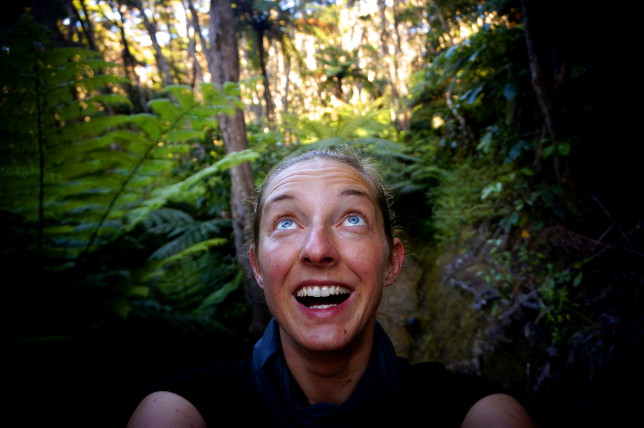 The rest of the track I would follow the traces of Tane – the maori god of the forest. He was told to be the creator of the world, how we know it. His parents Ranginui and Papatunauka, sky father and earth mother where together in a tight embrace – sky and earth were connected without any space for other beings. With his massive legs of kauri trees Tane seperated his parents. Sky and earth was created according to maori mystery. The journey lead me through the native forest – characterized by rimu and kahikatea next to some massive kauri.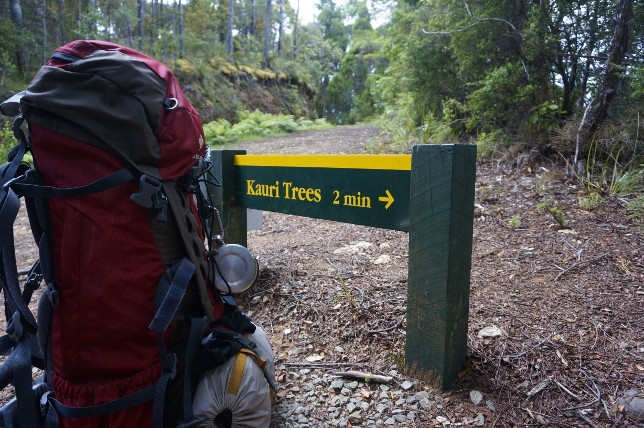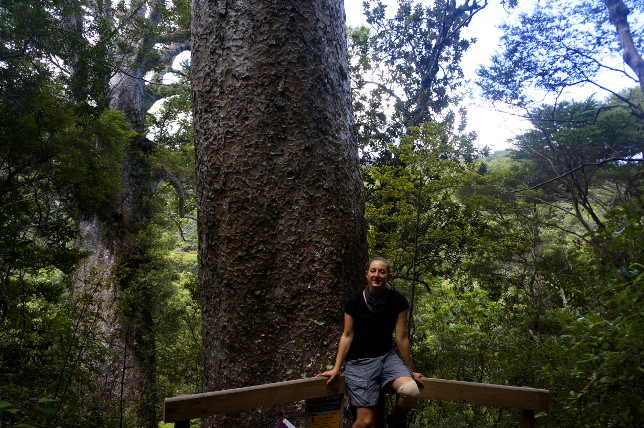 Well, after eight hours of hiking including a short detour to a lookout I reached the hut. Now I can feel the price for the impressions and exertions of the last days. I was knocked out at 5pm: After a short swim in the ice cold river and a quick couscous dinner I fell into a dreamless sleep.
It's Tuesday, 6th of December – two days left on the island. After 12 hours of sleep I was wide awake again. I felt like reborn looking forward for the highlight of the track – even though this whole trip was a highlight already. Today I would climb Hirakimata alias Mt Hobson, the highest point of the island. Of course in comparison with alpine standards it is just a small hill with its 621 m. But hey, you start off at sea level. 😉 Well, anyway it was a pleasurable climb on a beautiful sunny day. I took my time, enjoyed the sun and the various views across the small island. Great Barrier Island measures only 285 km². You can drive round the island in about an hour.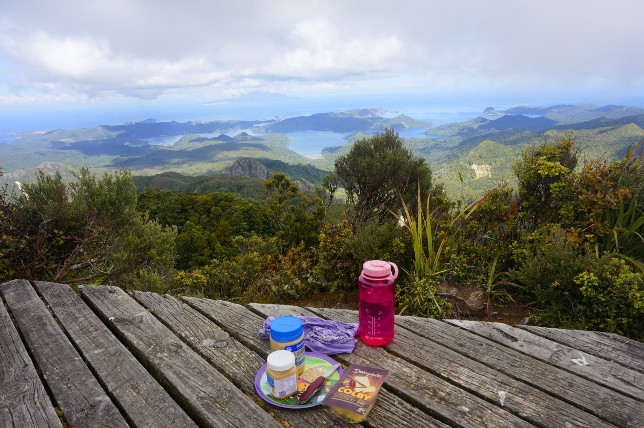 When I reached the summit I was completely by myself on this tiny viewing platform.
Fortunately I only met a group of four scouts from highschool and a wild pig the whole day. Unfortunately the clouds were interfering my view, so I decided to move on.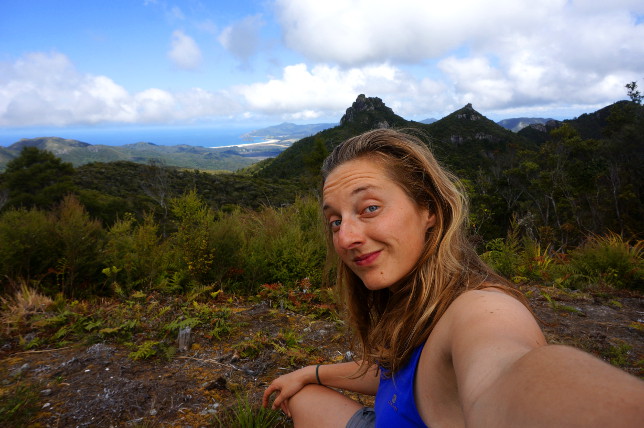 It was only 11am, when I reached Mt Heal Hut – my final destination for the day. It was the most beautiful spot for a hut I could ever imagine. And I had it for myself for the rest of the day. I discovered a small path leading to another small viewing spot eastwards. From there I was able to see Medlands Bay, the place where I spent my first night on the island. I couldn't take my eyes off the view until the black petrels disturbed the silence around sunset: This rare seabird fills the slopes of the mountains with their song, while having a feed.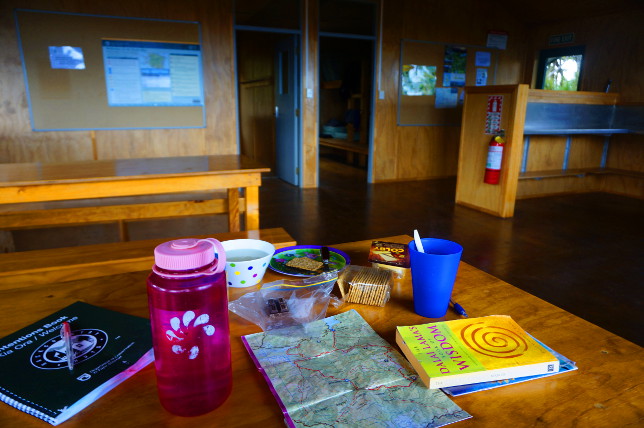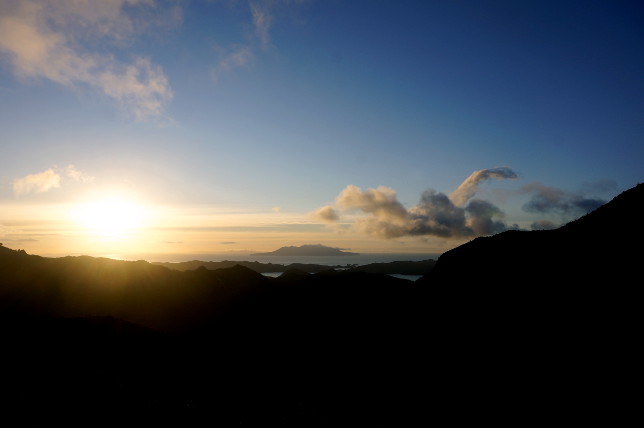 "If you don't appreciate every sunset, how can you appreciate life."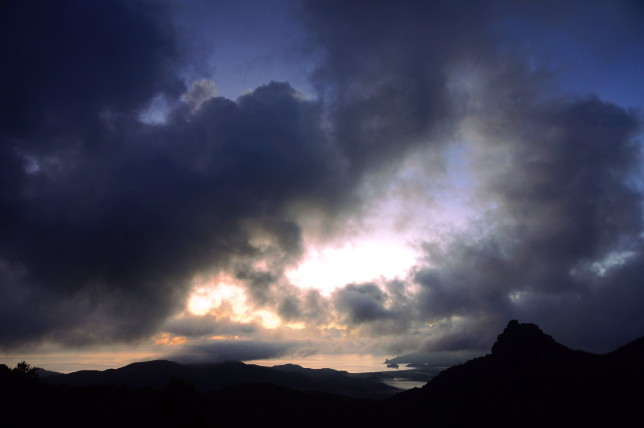 After a good nights sleep I woke up at 6 am on Wednesday 7th of December with the first gleam of light. I jumped out of my bed, because I wanted to accompany the sun climbing up the horizon. She was already there, but I couldn't see her. Only the orange clouds whispered to me that she is hiding behind them, getting ready for the day. I decided to go back to the hut and to get my breakfast ready. When I returned to the lookout the sun was smiling into my face. She wasn't only lighting up my face but the whole mountain and its forest cover. "Good morning sun and thank you for shining again," with tears in my eyes I proved my gratefulness towards the sky.
It can't get any better? Oh yes, it could! I finished this day of hiking at Kaitoke hotsprings. According to legends maori warriors recovered their tired bodies in these up to 50 degrees hot pools.
With wonderful hot water springs, your gift to all mankind. That relieve the pain wracked body and with wonder fill the mind. Hidden in your forest, where the forest fantails play.

By William Perry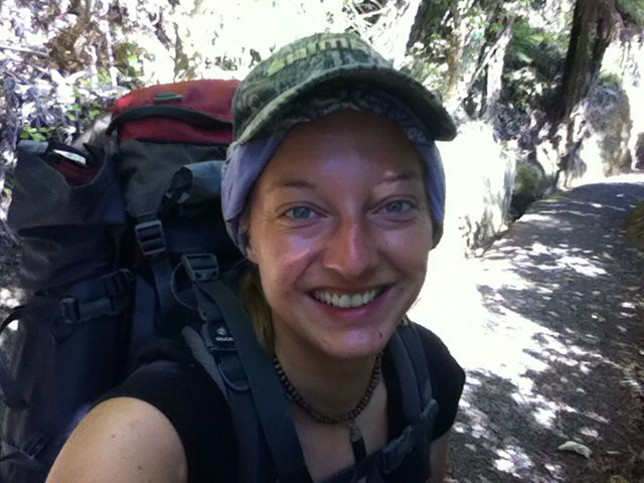 After soaking up the natural energy I made my way back to the settlement. This time I hitchhiked to Tryphena, where I stopped at Mulberry Grove for a coffee. I was sitting in front of the shop reading my book and eating a scone, when some random stranger offered me his holiday home for the night. How lucky can I be? It started raining and I had a roof over my head with an amazing view over Schooner Bay.
The last day Thursday 8th of December after having breakfast at Mulberry Grove, I took the time to visit "The Great Barrier Island Milk Honey and Grain Museum", which I highly recommend. The owner really put all his love and energy in the collection of photographs, remnants of tools and other utensils, which document the history of this magical island. (That's where I discovered the poems of William Perry.) Luckily I had enough time to take a last walk along the beach before taking off with the cessna to Auckland.
A few hours later I would walk through the city centre – this time I didn't take the bus but I hitchhiked from the airport. The rush of the city doesn't bother me anymore, because I carry a treasure in my heart. Nobody can take these beautiful memories away from me. It is my very last day in New Zealand.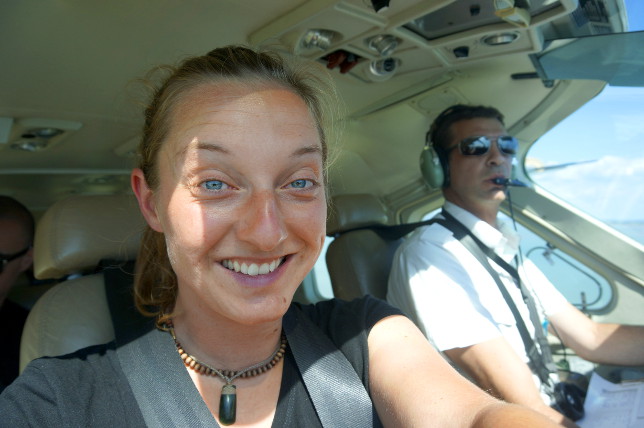 My journey through New Zealands nature guided me through maori mystery: I had a rendezvouz with lovelorn Taranaki and Tongariro. I accompanied maori spirits descending to the underworld at Cape Reinga. On my last adventure I made the acquaintance with Tane, god of the forest and the holy waters of maori warriors. THANK YOU NEW ZEALAND. <3
Great Barrier Island

You have bound me to you strongly and I do
not wonder why
For I've loved you since I've known you and
will love you till I die
For your beauty of the present and
your beauty of the past
You loveley, lovely charming queen of islands
unsurpassed

By William Perry