This year was the year of mirrors. My major "lessons learned": The "St. James Way" is more than a cliché; there is always a teacher just around the corner; the mountain without a peak really doesn't have a peak.
Caminar como el peregrino
"You are lost," a guy on the Camino Francés condenses my state of being on May 21 in 2018. A fresh breeze is chasing the clouds across the sky above La Faba, Spain, a tiny village on a hilltop roughly 150 k's away from Santiago de Compostela.
Tomasz, a czech guy in his forties, is holding the mirror right in front of me. "Yes, I am lost," I proudly announce with a somewhat (what I thought) mischievous smile.
Immediately I catch myself before sitting down at the dinner table with about 15 other pilgrims, who chose El Refugio as an albergue for the night. Wait a minute: "Which big ego was speaking here?," I'm pondering while enjoying the fabulous vegetarian pilgrim meal and some laughs with the others.
After dinner I continue my conversation with Tomasz who apparently could see through my buzzy backpackers mask. "You need to allow yourself to be lost," he encourages me to keep going. "Don't worry. You are already on the right track." – He was not talking about the St. James' Way anymore.
Tomasz himself walked different versions of "The Camino" already. He nearly made it a yearly ritual. This time he chose to walk the opposite direction. He had started hiking in Santiago de Compostela, the destination of thousands of pilgrims daily. His goal was it to reach Bilbao – the northern coast of Spain.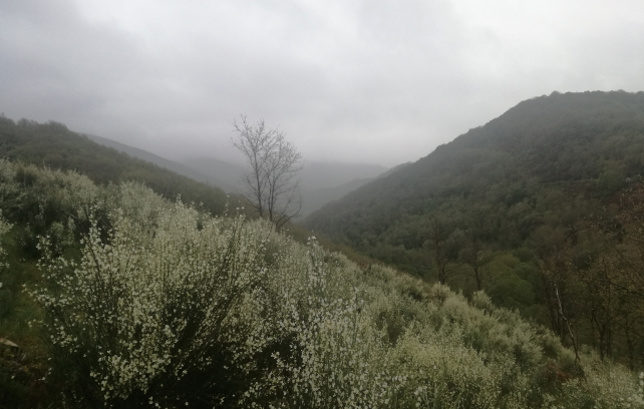 "You are tired of suffering," this wise man keeps poking the soft spots of my personality. That was exactly how I felt in this very moment. I was tired – tired of not having a home, tired of constant decision-making, tired of being alone.
My voice got quiet; my smile faded; I turned inward. I couldn't believe it. How could this happen? I thought I have learnt so much throughout the past years. Within a couple of sentences this guy summed up what I define as the source of my pain now – a pain I could never really grasp.
I realized that I knew nothing.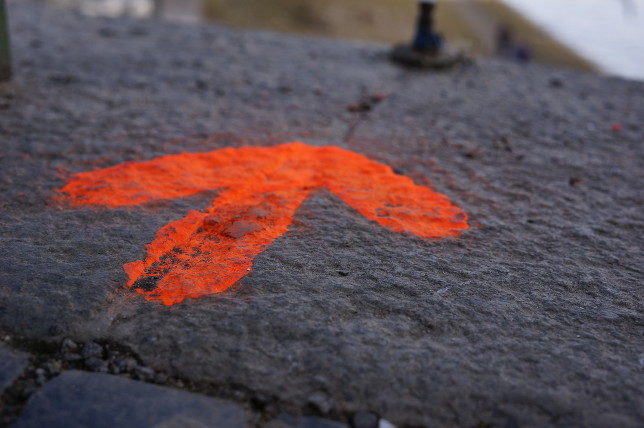 Even if I'm promoting freedom and independence – deep inside of me I'm not allowing myself to be free. I'm still trying to control the future instead of enjoying the journey. I'm still attached to an image of myself – an idea that I can't really "fulfill", because it is simply not me.
On a very deep level I'm punishing myself for not being "efficient", for not being "committed" to whatever – either to travel or to business. Non-stop I'm mangling myself with reproaches. And this causes unnecessary suffering.
Well, Tomasz and me drank some homemade shots and way too much red wine on this. It turned out that we have a lot of things in common. He has been working in the media business all of his career – first as a video journalist and later on as a webdesigner. He could relate to my desire of finding work-life-balance in the (more or less) creative industry.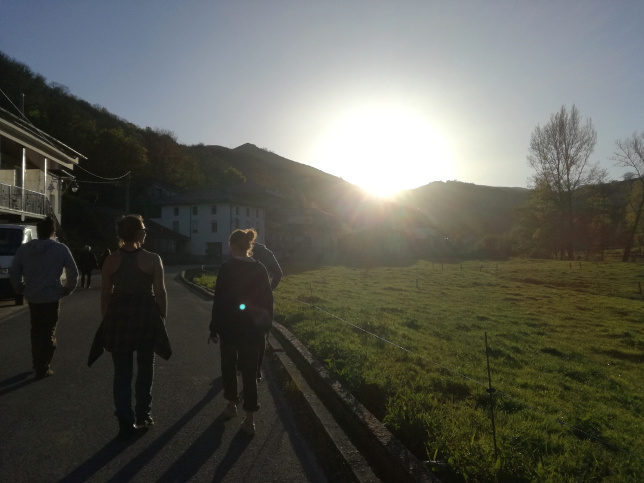 The next day I started a bit bumpy into my first day of actually walking on the camino – way after the other pilgrims. The three weeks before I was working at a cultural center called Project Brigid, where I shot videos for my friend Richard and his ambitious project mixmovement.com. In this short period of time I had already accompanied hundreds of pilgrims on their way, but I had to experience it myself – at least to get an idea of what the camino is really about. And what can I say? I loved every second of it.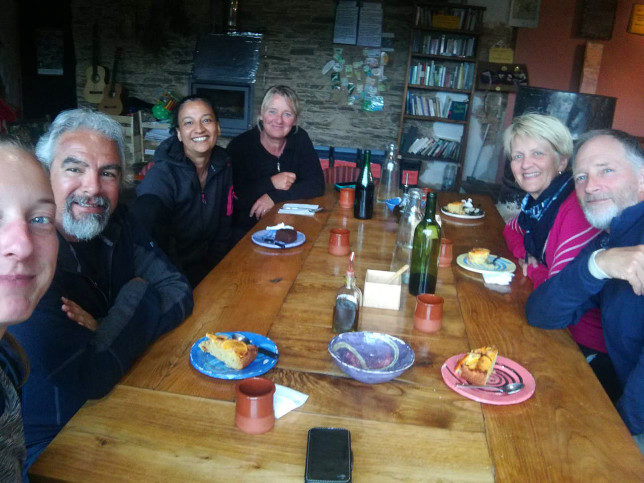 The first day I was literally killing it. After 26 k's of walking off the hangover my head cleared. My first real stage of the camino ended at albergue 'El Beso' ('The Kiss') with full-on camino vegetarian dinner, lots of laughs and deep conversations.
The next day I'm the last hiker leaving the albergue after a long chat with a woman from Germany about childhood, relationships and so on (classic "camino").
This day – again – I accomplish on the fast lane, but my physical condition on my arrival in Sarria, my next stage, put things in perspective. My heel hurt so much, I could barely walk anymore. "Wait a minute – I'm a hiker. I'm supposed to be smashing this," I'm teasing myself. With a striking thunderstorm the weather resonates with my feelings.
This was definitely my next lesson. "Okay, Uli. You walked around some islands and you climbed some mountains. Bravo! But this is not a competition. You are supposed to feel good on this journey." Yes, I made the decision to take a rest day after only two days of walking on the camino.
The next day I would spend sitting in a Café practicing Spanish in a slightly gloomy mood. The day after I swapped my hiking boots for my training shoes; I started early; I spent a lot of time drinking coffee, but I still arrived early and in a good mood at my next destination.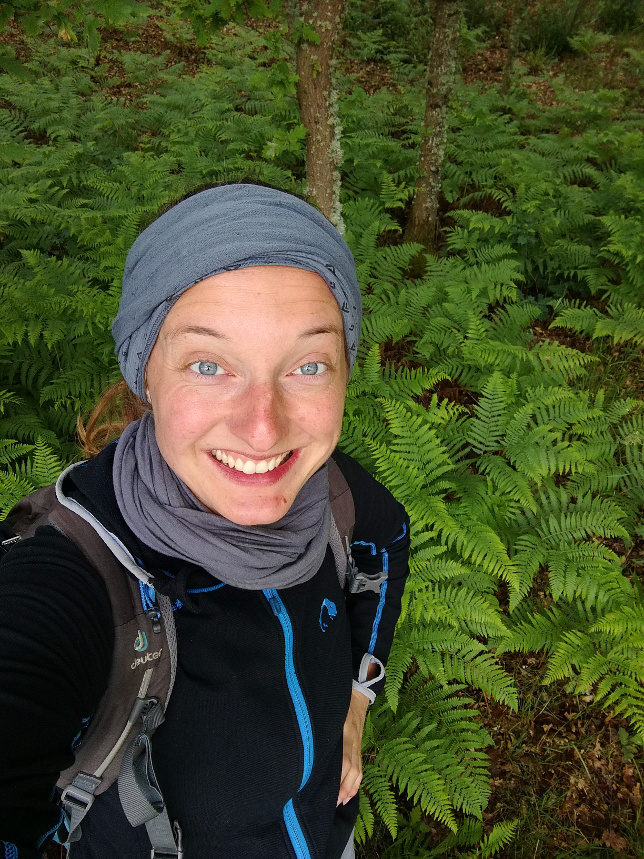 "The camino makes you stop." – I understood what the bulgarian woman had told me a couple of weeks earlier on one of my first days of working "on" the camino.
This was just the beginning of what would turn out to be the topic of the rest of my year 2018. (Or maybe the rest of my life?) "Slow the fuck down!"
In total I walked only 100 k's on the Camino de Santiago, but I faced the most important lesson that I still have to learn: To not push too hard and to make one step at a time. Otherwise I will never be happy and kill my dreams before I even give them a chance to evolve.
Elba Island or "Chill the fuck out"
Three month later: My desire to spend time by the sea brought me to Elba. I was planning on staying for four nights, but I ended up staying more than two weeks at a campground run by a dutch travel company called "Elba travels". I got introduced to sailing and to a bunch of great people.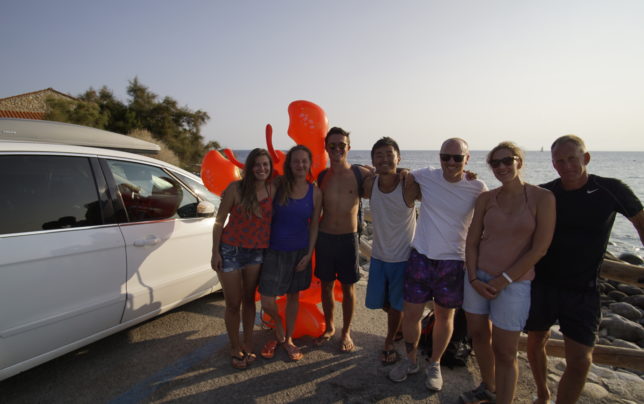 "You were so close," Brian observes my behaviour at the end of our snorkeling trip to a shipwreck. It is a beautiful sunny August day. The hottest period of this exceptional summer is laying behind us – some chill days of barbecues and adventures ahead.
"Close to what?," I am asking with obvious curiosity. – "To live in the now.," he replies.
Again – I was slightly startled. I thought about Tomasz, the guy from the camino and his knowing smile. This definitely rattled me: "I just spent two hours drifting over the surface of the mediterranean sea and you are telling me I'm not living in the 'now'? Are you kidding me?" This was what I wanted to reply, but all I said was: "I feel quite relaxed to be honest."
Still – deep inside of me I knew what he was talking about. Even though I thought "I'm relaxed!" – I wasn't. The chatterbox in my head was rattling. My mind always found things to deal with to create this invisible barrier between me and the now.
But at least the universe managed to pull out some magic tricks to let me face my lesson again and again and again: to let go and go with the flow….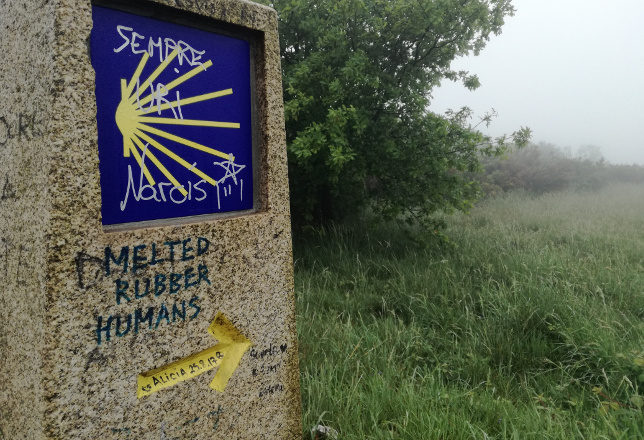 "What are you running away from?"
This year was one of the most instructive years I have ever had – the year of mirrors.
I guess this is what "growing up" is about. I'm still making the same "mistakes", but at least now I'm able to see – and eventually learn from them. I witness my poisonous behaviours, I acknowledge them and I try to alter them. This is all I can do.
People keep asking me "What are you running away from?" Nowadays I reply with ease: "I'm not running away from anything. I'm running right into it!"
When I travel there is one thing for sure: I will always encounter myself. And if I don't know where my head is at the universe takes care of the lessons that I still need to learn: either by my own experience or by the conversations with others – a lot of times – with random strangers.
This year I understood that "the people" truly make the big difference. More than ever I am so so grateful to be given the chance to meet all these amazing people on my 'walks' of life.
With every journey I embark into new territory of my psyche. I can witness the changes inside of me. Things become more clear. More and more I become aware of myself, aware of who I really am and not who I might become.
This is the thing about "finding myself". I am already here. This is probably the definition of "mental health": accepting that I am (who I am).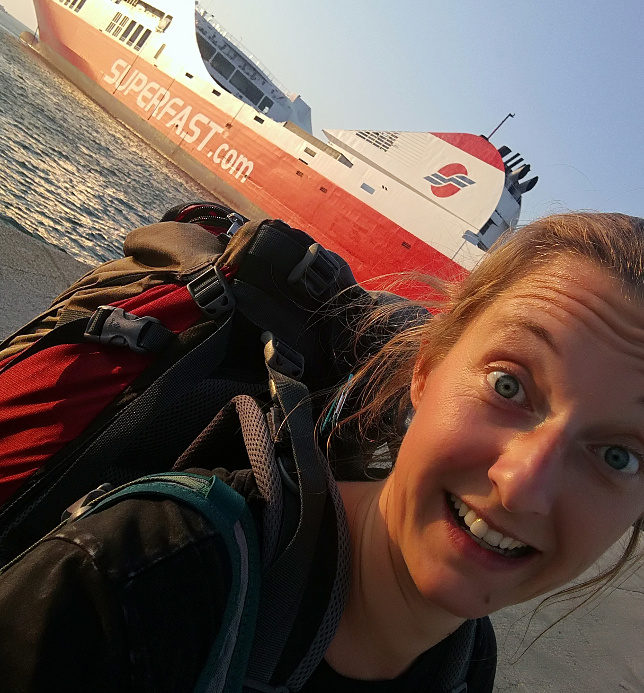 Fearless, careless, aimless – this is how my surrounding likes to see me. "Lost" is just an honest confession. What most of the people don't see is that there is so much more behind living a life of travel: The way I perceive the world is shaped by every encounter, every experience I made, every conversation, every walk in the park, every swim in the sea and this is what makes my personality. I grow from every encounter and every experience. I grow into my real me.
And this is why I travel and always will. All I'm going to change is the direction: inwards.