Imagine you loose everything you have ever owned…
Cyclone Winston destroyed the homes of 56.000 people and took 42 lives in Fiji. It was the strongest natural disaster ever recorded in the Southern Hemisphere. But instead of despair and depression I discovered happiness and hospitality like nowhere else before. On Koro Island All Hands Volunteers made an impact as one of the first organisations, who helped – six months (!) after the cyclone. I had the honour to contribute to the project for six weeks. In total we built 103 toilets on Koro. How, why and what? Keep scrolling.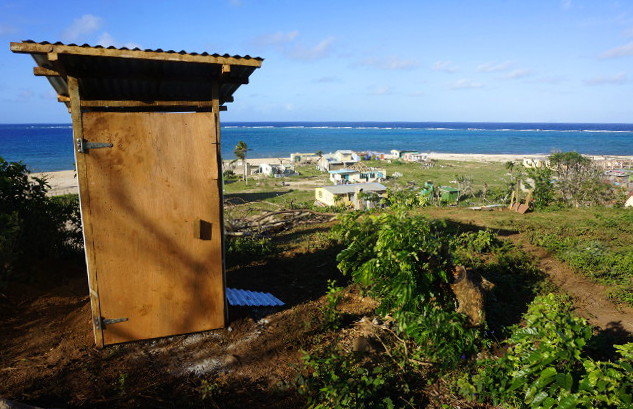 About three months ago I was sitting in the kitchen with my wwoofing host Rod in Marlborough Sounds in New Zealand. He showed me pictures of his sailing trip to Fiji and started enthusing about the island state. "The Fijians are the best people you could possibly meet. You would love it there.". I nodded and smiled, while curiosity was growing inside of me. I wanted to find out, what's so special about these islanders. But how? Island hopping and relaxing on the beach was not, what I was looking for. I still had this conservation project in the penguin reserve to look forward to, but I was looking for new challenges. The question "How and where do I want to invest my precious energy?" was omnipresent. I was aiming for a real purpose.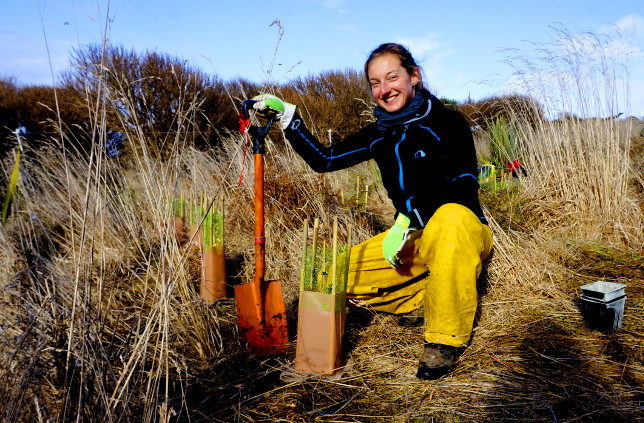 Not knowing, what exactly I'm aiming for I wrote an application for a happy life. Et voilà – the next day I received an email on workaway. "All Hands Volunteers Fiji needs you – come and experience the Fijian culture". I didn't make any effort to distribute my coverletter, but miraculously it seemed to got considered by the universe as I would find out later…
Fiji is Calling
All Hands Volunteers is an US based organisation specialized in natural disaster relief powered by volunteers. The first All Hands volunteers teamed up in 2004 in Thailand after the tsunami. In Fiji they had been rehabilitating and rebuilding sanitary facilities since March 2016. Within no time I filled in the application form. One day later I booked my flight to Nadi, the second biggest city on Viti Levu – the main island of Fiji. "Set" as the Fijians would say as I would find out very soon.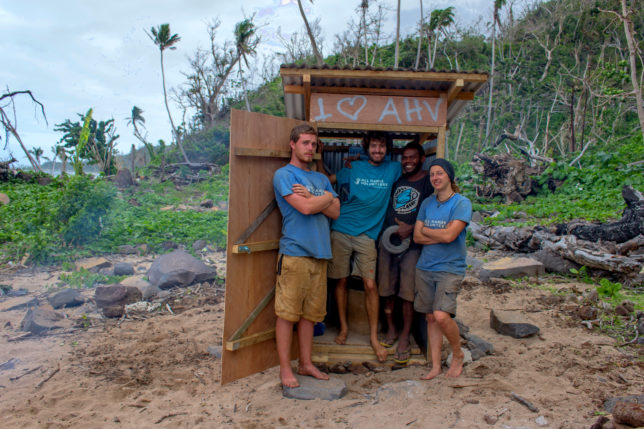 "We aim to demonstrate the power and value of volunteerism through the tangible work done, the hope it brings to suffering communities, and the transformative experiences it provides for volunteers."  gooverseas.com
My first excitement turns into nervosity. I was not prepared to travel to a tropical country. What do I have to pack? Which vaccinations do I need? Can I handle the hard work? Will I come along with the other volunteers? Many, many questions popped up in my already wrecked brain. It felt like the time was rinsing through my fingers like sand through an hourglass. I had doubts – the adventure ahead, the unknown frightened me, but there was no way back – at least no shortcut. Fiji is calling. Somehow I sorted out my medical preparations and all the additional gear I needed to join the project fairly prepared.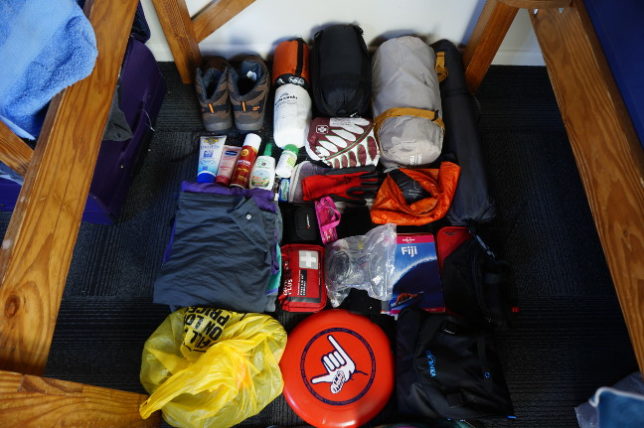 From Heat Stroke and Kava Cure
Only ten days after I booked my flight, I arrived at Nadi airport. What can I say? I was maybe forearmed to tackle diarrhoea, but not the heat. After relatively fresh twelve degrees in New Zealand the 30 degrees knocked me out. Luckily I spent the first two nights at Bamboo Backpackers in Nadi to acclimatise.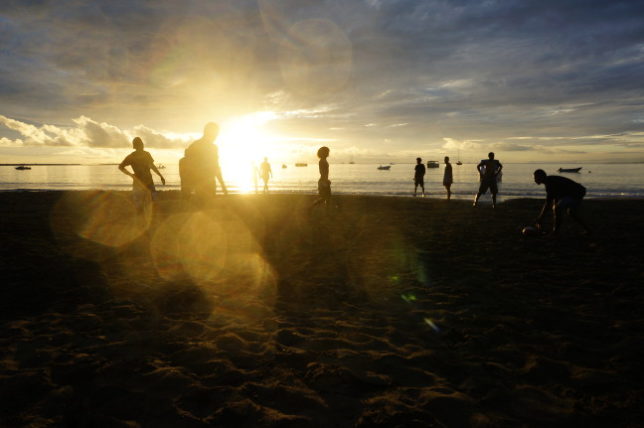 My first fijian sunset rewarded me for the heat stroke. The following kava session at the hostel immidiately cured my culture shock. Kava? Kava is a traditional non-alcoholic drink made from a dried root mixed with water. It relaxes your muscles and calms you down. After a decent amount of 10 to 50 bowles you reach a state the Fijians call "doped". And yes, I love this stuff. 😉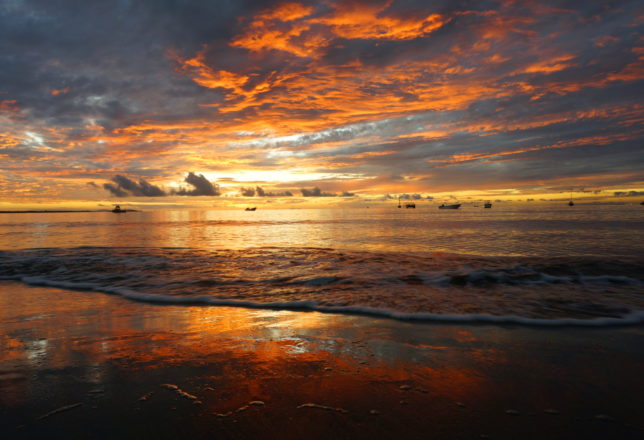 Me and the Hammer – the Beginning of a Lovestory
The first week on board of All Hands was a rollercoaster of emotions. If you would have asked me, if I know how to use a hammer I would have said yes, sure thing, but painfully I had to learn: "You have no fucking clue how to nail an umbrella-nail!" But surprise, surprise: You know how to beat yourself down – this time not only literally: On day two I smacked myself with the hammer. I can hardly remember a day in my life, where I felt more stupid and incapabale of doing a thing right. Well, lesson learnt: Keep it easy, girl. Over-motivation doesn't help. You dont have to do every single job on the first day. You're on Fiji time.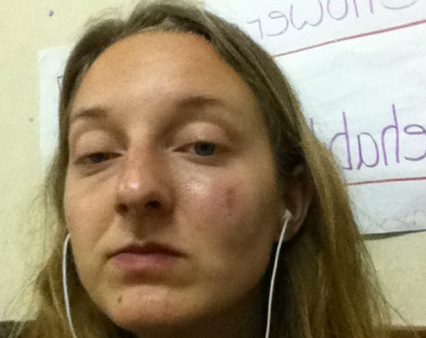 "Don't give up, when clouds surround you. It is maybe a sign that you are climbing higher."

quote of a volunteer
Well, I didn't really have the time to settle down at our base at QVS, Queen Victoria School, near Korovou on the main island of Fiji. Only five days after my arrival at the project me and eleven other volunteers and All Hands staff members made our way to Koro Island. Now the real adventure begins…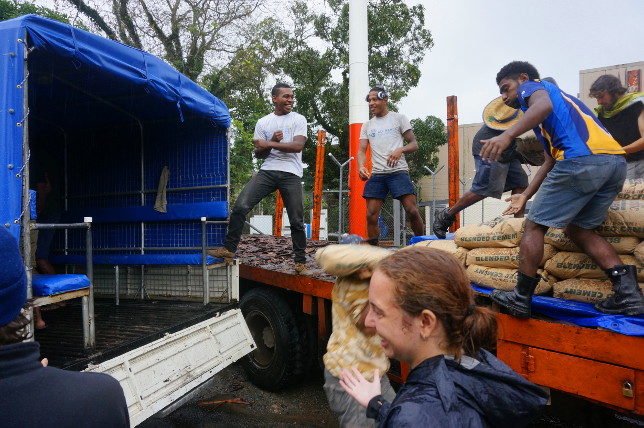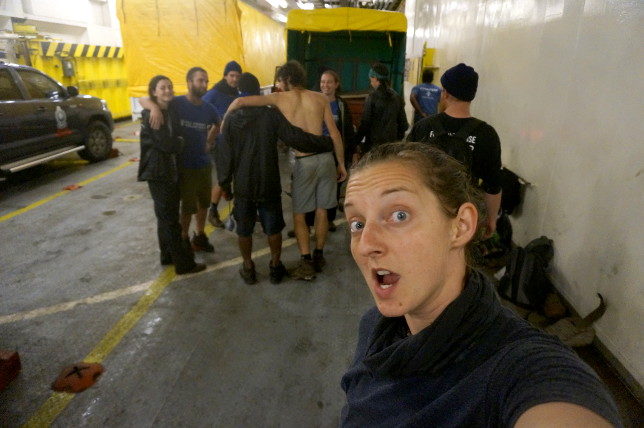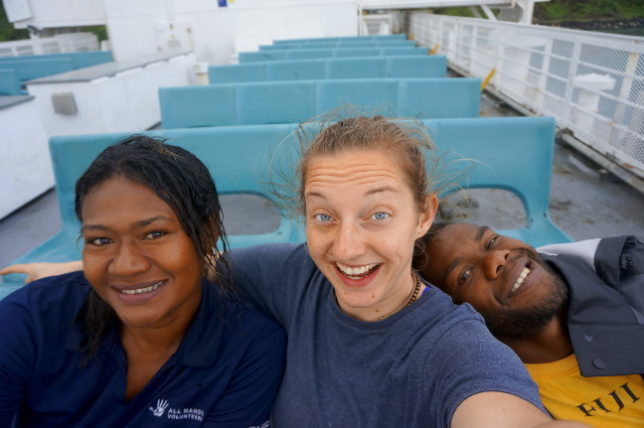 Winston took Houses, but not Happiness
Imagine everything you have in life is taken from you. What's left?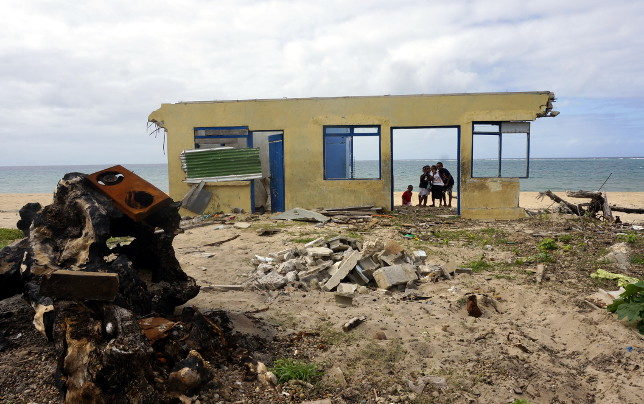 The violence of Winston hit Koro like no other part of the country. Nearly all the houses on Koro got damaged by the cyclone – a lot of them were completely destroyed.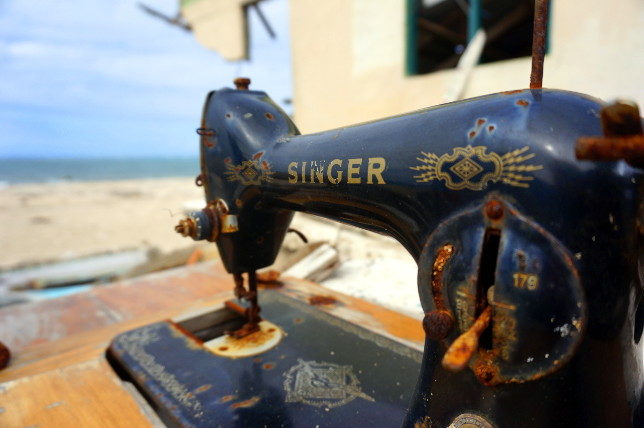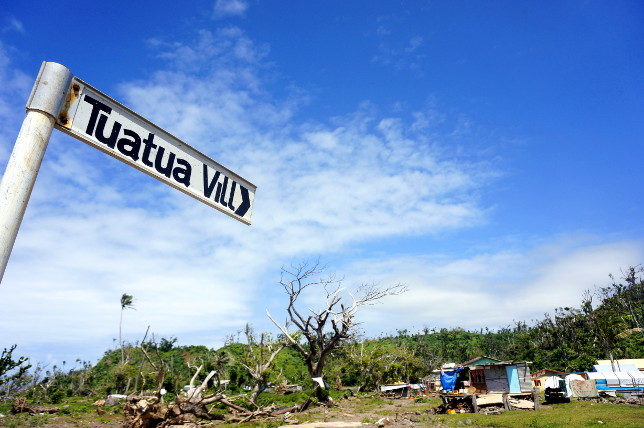 Before Winston Koro was acknowledged as the most fertile island of the country. Most of the vegetable and kava supplies at the market in Suva were distributed by the islanders. After Winston the farmers lost their main source of income, but not their hope. The heads of the people are still up and the smiles are bright – even if the recovery will take decades.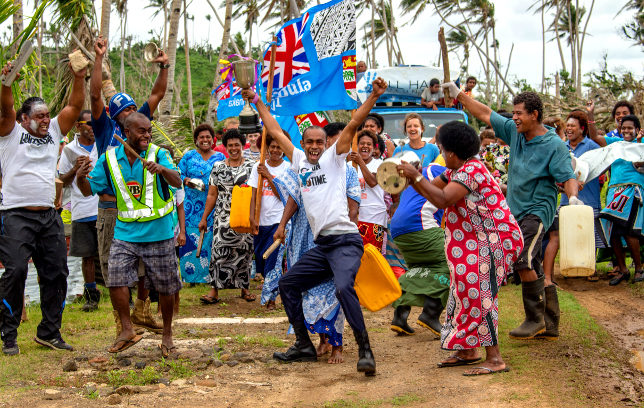 "You would expect people being depressed after Winston, but for us these are just material things. All that matters is being together with good people." Jerry, a police officer stationed on Koro Island gives me an understanding of Fijian values. Fiji is the land of the people –  Winston might took their houses, but not their happiness.
Winston took houses, but not happiness.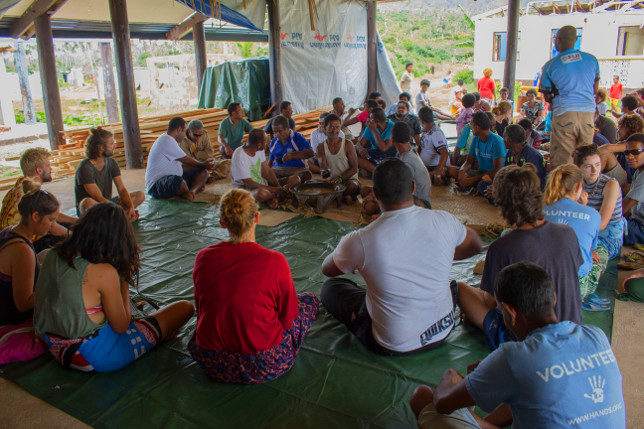 More than just a Toilet
We keep our spirit up as well and the longer I stay the more I realise, that we are building more than just toilets. "Building hope" is not only the flat slogan of All Hands: With every toilet we finish, you can see hope in the eyes of the beneficiaries evolving.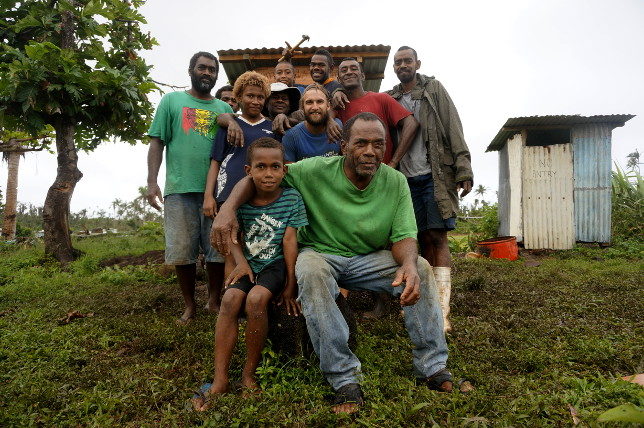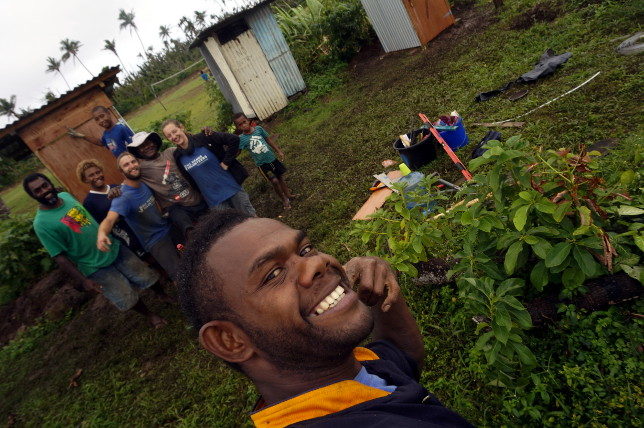 We are cutting our neccessaties to meet the basic needs of  disaster-struck human beings. We are willing to give up our luxury life to help. We take part of their lives and help – no matter, which nationality is quoted in our passport.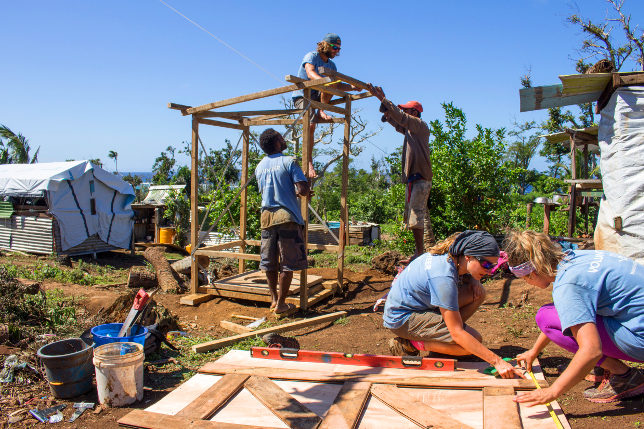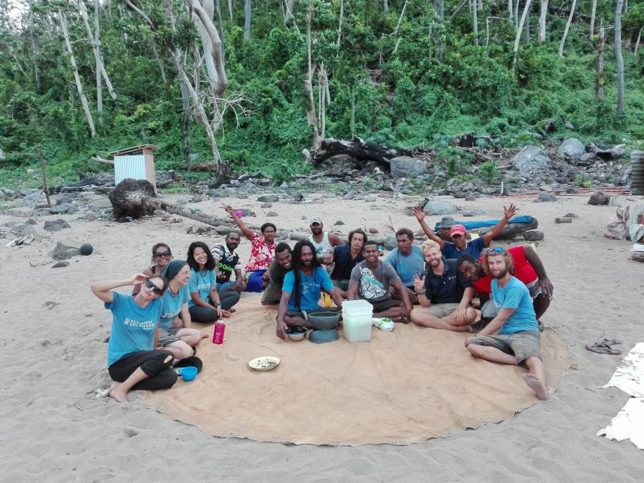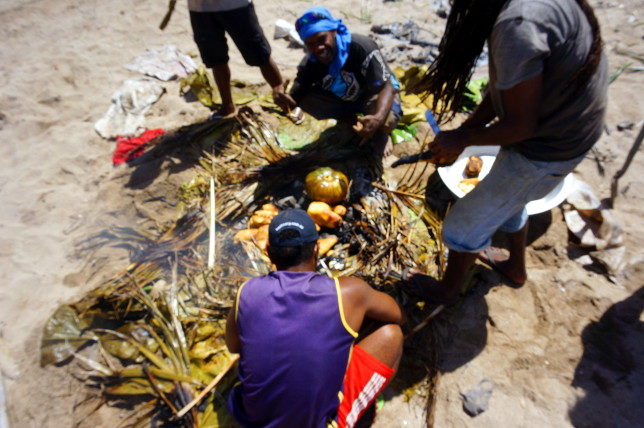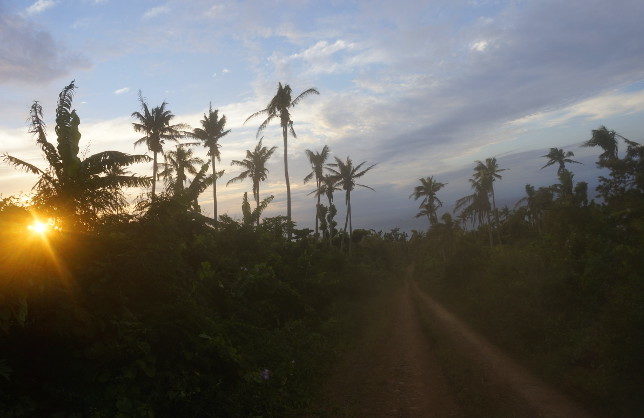 What did I learn during the Project?
This experience makes me question more than ever, what this life is about? Maybe there is no reason to be worried about the future and all that matters is good company and enjoying the bright side of life? At the moment the question: "What do I actually need?" is more present in my head than "What will I do next year?" Why? Because there is no such thing like future. There is only the here and now…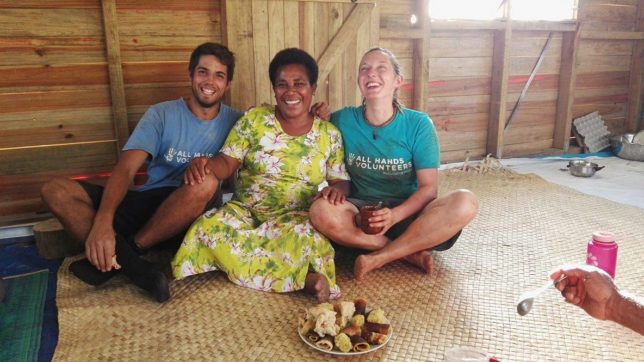 Well, me and the hammer became friends at the end. 😉 But more important: I realised, that change is possible, if we work together. Together we can make a difference. Every hand matters, but we have to work hard. Of course – words and money are necessary, but the impact is made by hand. 352 toilets and 75 showers  – That's the impact of All Hands' project Fiji 2016.
You want to learn more about the situation on Koro Island? Check this article of Radio NZ.
Or do you want to help? Support All Hands Volunteers.