Fed up. Desillusioned. Gloomy. This is how I would describe my mood by the end of May. My post-travel depression after my working holiday was still striking. After three months back in Munich working two jobs, I felt like my travel bug was slowly dying. An adventure was overdue, but I was hopelessly uninspired and demotivated. I needed to find a way to revive my travel bug.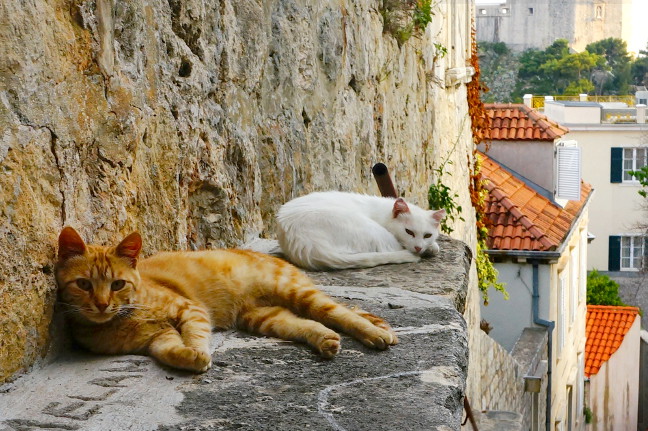 So, I agreed with my boss to close down the office for two weeks as he was on holidays too. (Luckily I have the best boss in the world.) "Just go for it." – I thought to myself and I booked the cheapest flight I could find. Five days later I would sit on the plane to Dubrovnik "pearl of adriatic".
The travel bug is starting to recover
It is early morning, Monday June 5. The sun is already dissolving the dewdrops on the rooftop terrace of Salzburg airport. With a coffee in my hand I smile towards the sun in pleasant anticipation for the upcoming adventure. All I pre-booked for the ten day trip was my accomodation in Dubrovnik and I knew I would travel to Durmitor Nationalpark in Montenegro – somehow.
"Either life is a daring adventure or nothing at all."
Around four hours later I would arrive at my hostel in Dubrovnik, where I would watch massive cruise ships docking the next three mornings, because my hostel was located on the opposite side of the harbour of Dubrovnik.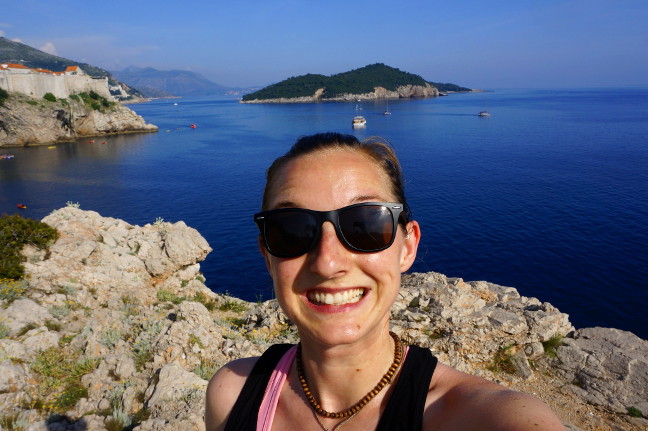 Historical Dubrovnik is a world heritage site located at the southern tip of Croatia. The ancient walls surround a medieval town center. Dubrovnik is stunning, but squeezing through the side streets with all the passengers of AIDA cruisers was not my thing.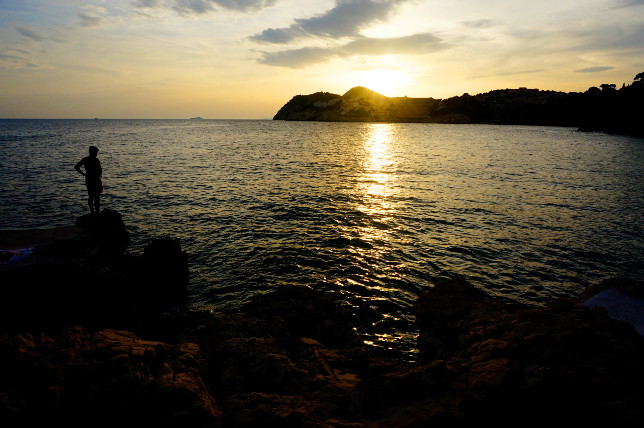 Luckily I discovered a secluded swimming spot slightly off the walls of oldtown Dubrovnik. Instead of paying loads of money for a "Game of Thrones" tour I spent my time reading and swimming in the clear blue water and managing to find good spots to see the sunset. This way I got to know Rob from Australia, who told me a lot of interesting stories about his cycling trip across the Balkans. He didn't only feed my travel bug with new inspirations, but also discovered the best cevapcici grill in Dubrovnik, which turned out to be my dinner choice every night. (I recommend the "presa" salad. *Yummie*)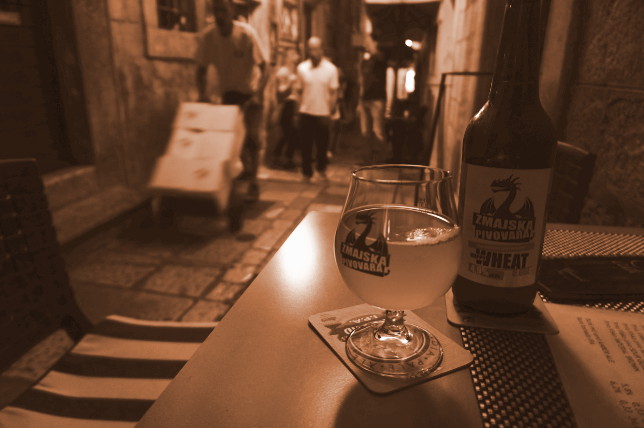 On Thursday morning I made my way to Montenegro. What can I say? Already the drive to Kotor was incredible as we took a ferry across Kotor bay. I stepped out of the bus station, the sky was as blue as it can be. When I watched a woman hanging her laundry in front of the breathtaking scenery of Lovćen Nationalpark, I was blown away. Already before I discovered the cat museum (Yeah, right, they exhibit cats 🐱 Kotor is famous for there streetcats.), I knew this city was special and I had to stay overnight.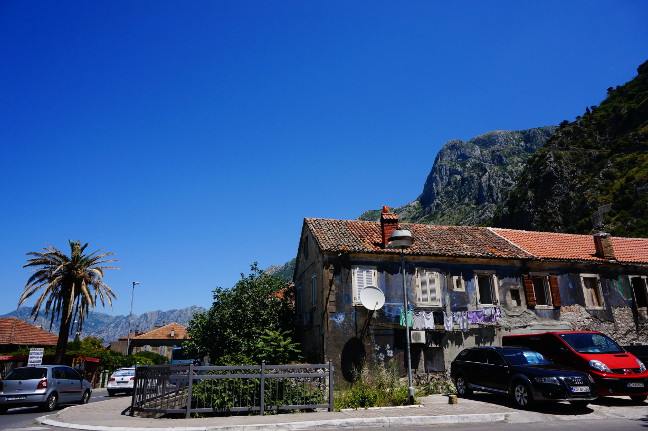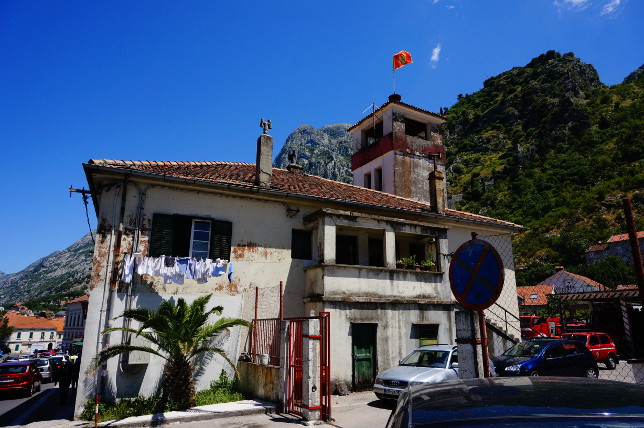 Instead of driving directly to Durmitor Nationalpark how I planned, I checked in at Cent hostel. It is a new hostel located in one of the timber-framed buildings within the ancient walls of old town. After lunch I went for a swim, because the heat didn't allow any other activity. Before sunset, when the temperature was bearable, I climbed up to the Castle of San Giovanni. The sky was pink, the view was breathtaking and for some reason the number of tourists up there didn't bother me at all.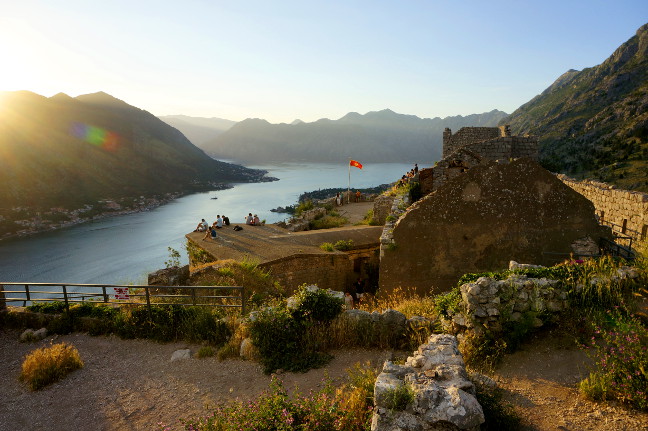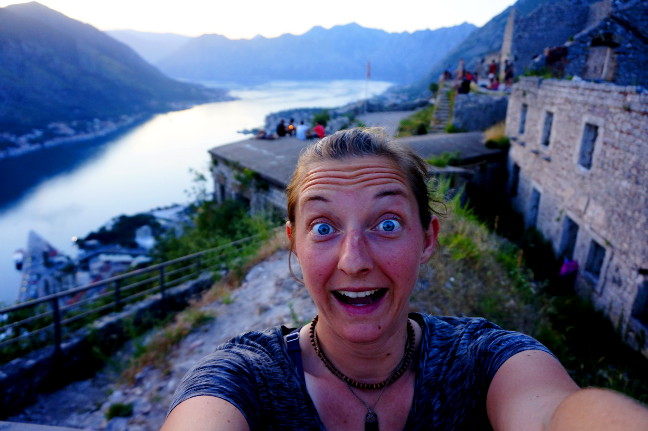 The next morning I got up early to enjoy the oldtown in silence. At 7.30 am the cruise ships haven't landed yet and I took advantage of the golden hour to write some postcards at a quiet café in one of the side streets.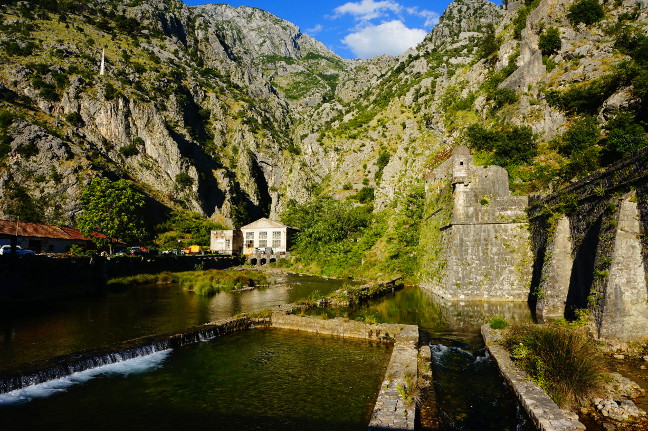 At 11:30 am after spending the rest of my money on homemade cheese, bread and peaches  from the market of Kotor I took the slightly over-heated, but empty (!) bus to Žabljak , the village at the entrance of Durmitor Nationalpark. The drive around Kotor Bay was just breathtaking. While rounding the bay in serpentines up hill through endless tunnels, facing the mountains of Lovćen Nationalpark, glancing backwards to wave farewell to the sea, I was well aware that I have the real adventure still ahead: A hiking trip on my own through Durmitor Nationalpark.
Off to Durmitor Nationalpark
I already doubted I would meet any other backpackers at Durmitor Nationalpark, but in Nikšić Adam, a guy from Yorkshire and two Americans got on the bus. The last two hours of the bus ride I would speak with Adam about anything and everything and admire the landscape inbetween. The views over the dramatic landscape compensated the shaky ride.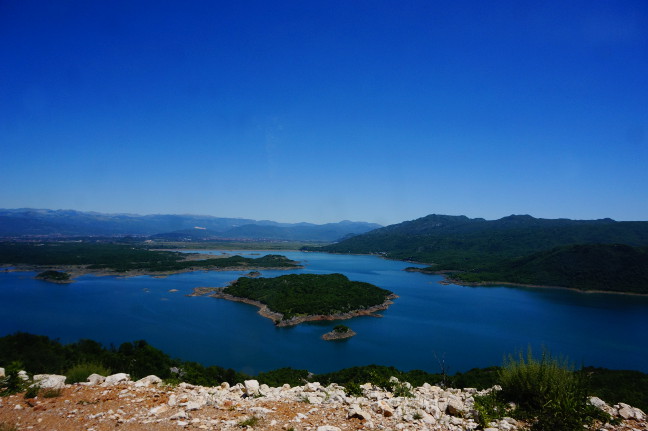 "We gonna stay at Alex' place, you wanna come?" My original plan was it to sleep at a campsite, but I found myself being delighted about the company of like-minded people. So, I agreed – even if the weather was perfect for pitching a tent.
It turned out that Alex' place is a hostel called Hikers Den and it was the best decision ever to stay there, because I felt at home from the very second on. Alex is not only incredibly knowledgeable about Durmitor Nationalpark and Montenegro in general, he and his brother are also very good hosts.
When we reached the front yard of the house, a tiny dog jumped into my way while an about two year old boy (Alex son) was playing around with another dog. Alex popped out the door enthusiastically to welcome Adam and me, while other guests where chatting on the benches in front of the house.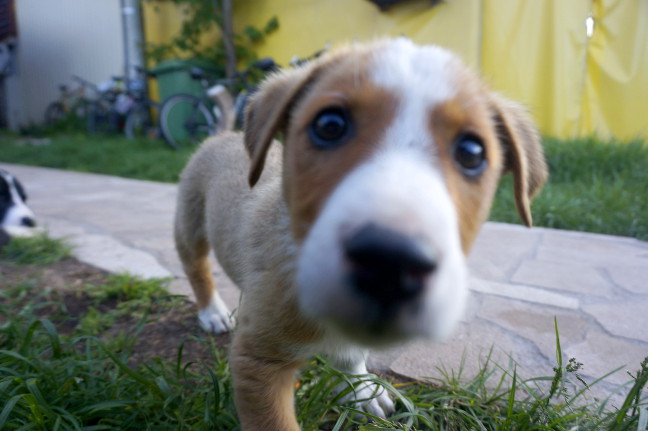 Alex' brother Stefan showed me my bed in the slightly antiquated house next to the main building. At least, when I met an 90 year old montenegrian woman on the hallway, who lives in the house as well, I fell in love with this place completely. 😉 I was the happiest person on earth. Plus: There was no better place to start my adventure in Durmitor Nationalpark. Why?
What happened in Durmitor Nationalpark? A detailed article will follow…